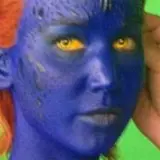 X-Men: Days of Future Past director Bryan Singer's latest behind-the-scenes tweet catches Jennifer Lawrence in the act of getting her make-up touched up. For most actors that wouldn't be a huge deal. It is when you're playing a naked blue mutant with yellow eyes and fiery red hair.
A stone-faced and nearly naked Jennifer Lawrence stares in the camera for Singer's inside look at the making of his latest film. She's got all of Mystique's unique body patterns already applied, the yellow contacts in place, and the hair as slicked back as ever.
In Singer's Tweet he calls Mystique "vengeful," offering a little glimpse into what the shape-shifter might be up to in the film. At the end of X-Men: First Class, Mystique chose a side and that choice led her under the wing of Magneto (Michael Fassbender). She figures to have a bigger agenda for this next outing.
X-Men: Days of Future Past is currently in production and arrives in theaters on July 18, 2014. In addition to Jennifer Lawrence it stars Peter Dinklage, Michael Fassbender, Hugh Jackman, Nicholas Hoult, James McAvoy, Anna Paquin, Ellen Page, Ian McKellen, Patrick Stewart, Shawn Ashmore, Halle Berry, Booboo Stewart, Bingbing Fan and Daniel Cudmore.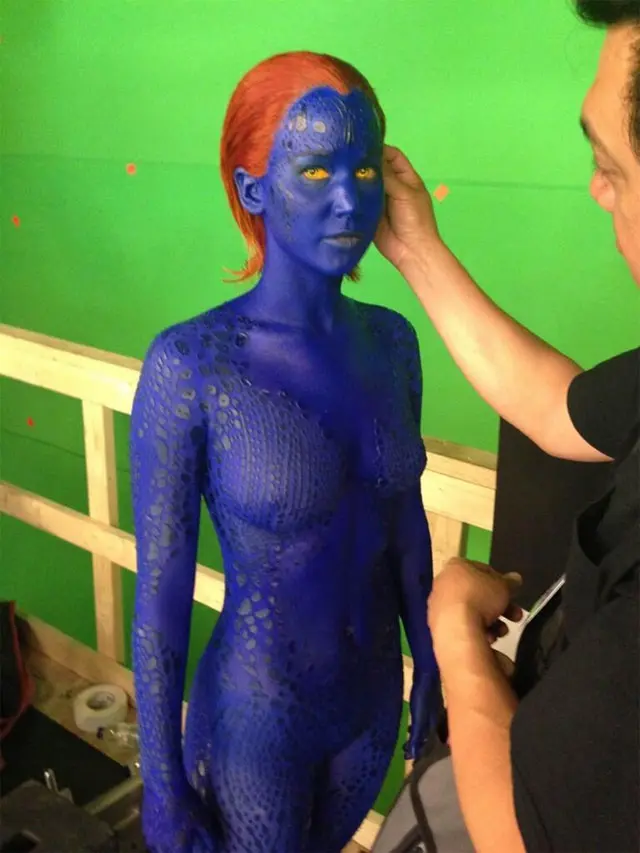 Source: Twitter