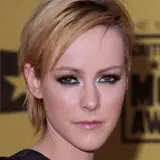 Lionsgate has officially cast Jena Malone to co-star in The Hunger Games: Catching Fire as tribute Johanna Mason.
Malone was reported to have been offered the part back on July 4 and entered into negotiations for the role at that time. Prior to the offering, Zoe Aggeliki was rumored to be in the lead for the coveted role.
In Suzanna Collins' The Hunger Games: Catching Fire story, Mason is an early twenties former District 7 winner of the annual Hunger Games that returns to participate in the 75th annual games featuring winners from past years. Her role extends into the third book which means Malone's deal could be for up to three films (the final Hunger Games book will be split into two films).
Malone co-starred in History Channel's Hatfield & McCoys alongside Bill Paxton and Kevin Costner. She's best known for portraying Rocket in Zack Snyder's Sucker Punch, but can also be seen in The Messenger and Sean Penn's Into the Wild.
Joining Jena Malone as newcomers in The Hunger Games: Catching Fire are Amanda Plummer as Wiress and Philip Seymour Hoffman as Plutarch Heavenbee. Other roles are expected to be announced over the next month as production under director Francis Lawrence gears up.
The Hunger Games: Catching Fire is locked into a November 22, 2013 release date.