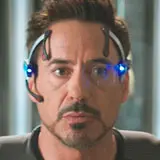 The first trailer for Marvel's Iron Man 3 starring Robert Downey Jr., Gwyneth Paltrow, Don Cheadle, Ben Kingsley and Guy Pearce blasted onto the Internet late last night, as promised.
The trailer paints an ominous tone for Tony Stark (Downey Jr.) in the aftermath of the big New York City battle against Loki and the Chitauri in Marvel's The Avengers. It seems Tony's near sacrificial thwarting of a nuclear bomb impacting New York City and battling aliens by the dozens has negatively affected the billionaire philanthropist's state of mind. He's having trouble sleeping and isn't the same man he once was.
All the while a new threat has emerged that goes by the name of Mandarin (Ben Kingsley). This popular character and arch-nemesis from the Iron Man comics doesn't consider himself a terrorist. Instead he's a teacher, and lesson number one is flattening Tony Stark's seaside mansion to prove there are no heroes in the world.
The Stark mansion's destruction sees all of Tony's Iron Man suits wiped out save for the newest one. Expected to be based on Extremis technology lifted straight from the comics, this suit attaches to Tony's body on the fly with a simple thought. Does the suit make the man or does the man make the suit? The answer to that question could potentially be both as the line between Iron Man and Tony Stark begins to blur.
One scene that will spur theories is one in which Pepper Potts awakens in bed with Stark by her side, only to be grabbed by the Iron Man armor. Or, someone else wearing or controlling the armor. Not only are we looking at potentially Stark losing all his toys, but also having his latest tech compromised by Mandarin and his cronies.
War Machine gets a makeover in the new trailer with an Iron Patriot-inspired red, white and blue paint job. He will get some action, too, as evidenced by a quick scene of him smashing some poor sap into a table.
The Iron Man 3 trailer strongly implies that Pepper Potts might be on the chopping block. Stark not only makes reference to how Potts' the one thing he can't lose, but we also see Pepper in some kind of a torture device. Her demise would certainly push Stark down a potentially dark path of revenge.
Iron Man 3 opens in theaters everywhere on May 3, 2013.