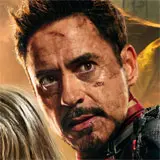 Marvel has released a nice high resolution IMAX poster for Iron Man 3 which you can view by clicking the smaller version below.
This poster artwork pulls together all the individual character portraits and then mixes in the locations from two of the film's big action sequences, including the finale. Tony's "boys" i.e. his remote controlled Iron Man armors are also included, lifted from the final theatrical one-sheet.
At the heart of the poster are Tony and Pepper whose relationship is expected to be put to the test based on what we've seen from the trailers thus far.
Iron Man 3 stars Robert Downey Jr., Gwenyth Paltrow, Don Cheadle, Guy Pearce and Ben Kingsley. The wait is starting to shrink as the May 3 release in IMAX and 3D approaches.