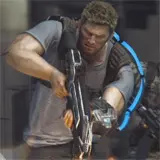 The first trailer for Namco Bandai's gravity-challenged third-person shooter Inversion from developer Saber Interactive has arrived. There's no actual gameplay in the cinematic trailer, but you do get an idea of how the game will play.
The Inversion trailer depicts a trio of armed men walking up the side of a building as if they stepped right out of a recent episode of 'Fringe.' When they get to the top, they pass through a mysterious blue mist that seems to allow them to shift gravity so they can stand on the building.
When the trio peek on the other side of the building, scores of heavily armed mutants/aliens/things are running up the side. A firefight ensues, until eventually the camera pulls back to reveal a post-apocalypse city with buses and other items swirling around in midair.
Namco Bandai today also announced that Inversion now has a release date of February 7, 2012. It is expected to be available on Xbox 360 and PS3.