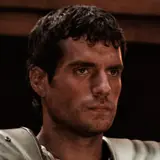 Relativity loaded their Comic-Con panel for the big upcoming stylish action film Immortals with director Tarsem Singh, producers Mark Canton and Gianni Nunnari, and cast members Henry Cavill, Freida Pinto, Kellan Lutz, Stephen Dorff and Luke Evans.
If there's a single takeaway from the panel for anyone considering seeing Immortals later this year, it's this: the filmmakers want everyone to understand that though there are visual similarities to 300, there is no relation between the two stories. The film was designed to stand on its own two feet.
There might be some of you on the fence about seeing Immortals thinking it might the Greek mythology version of The Eagle. Keep in mind that Tarsem Singh's direction is always stylistic and unique to his vision. From an aesthetic standpoint he never disappoints. Almost every question asked of the cast and crew seems to circle back around and reference Singh's vision.
Also remember that Immortals stars Henry Cavill, the man who will become Clark Kent and Superman in Warner's Superman: Man of Steel two summers from now. His role as Theseus likely played a part in becoming the next Superman so it's certain to be under the microscope.
Ten snippets from Immortals Comic-Con panel this past weekend are presented in order below. Just below them are two images and a new poster released to coincide with Comic-Con, each of which can be clicked to view a high resolution version.
Immortals opens in theaters everywhere on November 11.
>