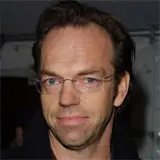 Director Joe Johnston and Marvel Studios are having a devil of a time casting the lead in The First Avenger: Captain America. That prolonged mess has not stopped them from setting their sights on one finalist to up against Cap.
Per The Hollywood Reporter, Hugo Weaving is currently negotiating with Marvel to play Red Skull in the upcoming Captain America film. If he lands the role, Weaving will be able to add the infamous Nazi villain onto his resume alongside V, Agent Smith, Elrond, and the voice of Megatron in Michael Bay's Transformers films.
Marvel has become notorious for striking stingy deals with its stars after putting together the Iron Man 2 cast. That process jettisoned Terrence Howard from the sequel and stimulated Samuel L. Jackson to take jabs at Marvel in hte press before signing his multi-picture deal.
Weaving is apparently in the middle of working through either a single or multi-picture deal depending on if Marvel has plans for the character to survive the first Captain America film. THR suggests we should know within a couple days whether he has landed the part or the talks fell through.