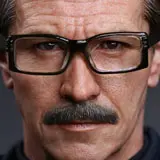 Update (July 30, 2012): The Hot Toys Lt. Jim Gordon (S.W.A.T. Disguise) 1/6 scale figure from The Dark Knight pre-orders sold out at some point last night, less than 72 hours after he first went up for sale at Sideshow Collectibles. If you were on the fence and missed out, you can still get on the Waitlist and stand a good chance at snagging one when some orders will fail to process in September.
Original article (July 27, 2012): Sideshow Collectibles has begun accepting pre-orders for the Jim Gordon (S.W.A.T. Version) 1/6 scale Hot Toys limited edition figure, exclusive to toy fairs and Sideshow. The figure is slated to begin shipping this September.
This figure marks the first incarnation of Jim Gordon in the Hot Toys 1/6 line. In addition to a headsculpt that bears the likeness of actor Gary Oldman as Lt. Jim Gordon, the figure comes packed with numerous accessories including a S.W.A.T helmet and goggles, four pairs of hands, binders, Gordon's eyeglasses, a shotgun and a pistol.
Sideshow is charging $224.99 for the 1/6 scale Lt. Jim Gordon figure from The Dark Knight. He can be paid at once or via FlexPlay to spread out the total amount in smaller payments. I don't know what the run is but he's definitely a limited edition figure.
Click here to pre-order Hot Toys Lt. Jim Gordon (SWAT Version) for $224.99 at Sideshow Collectibles, while supplies last.
Also currently up for pre-order from The Dark Knight Rises at Sideshow is the Joker DX version 2.0 with exclusive detonator and Grumpy's clown mask, as well as the Tumbler Batmobile, the latter of which ships next month. Click here for The Joker DX version 2.0 images and pre-order information, or click here to pre-order the Batmobile Tumbler.