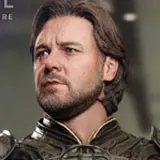 The Hot Toys Jor-El 1:6 scale figure from Man of Steel, based on the likeness of Russell Crowe as seen in the film, has been revealed and already sold out at one online retailer.
Jor-El is the second figure from the Hot Toys Man of Steel line, the first being Superman (Henry Cavill). He's the first Hot Toys figure based on a character played by Russell Crowe ever offered for sale, instantly increasing the desire amongst collectors to snatch him up during the pre-order process for customization opportunities. Already pre-orders are sold out at BBTS in less than two days since they first became available.
Priced at $219.99, Jor-El comes with three pairs of interchangeable palms including a pair of relaxed palms, pair of fists, and pair of gun holding palms; a blue costume (the Superman "suit") with embossed pattern; a brown robe with detailed tailoring; a dark red wired cape; a set of chest and shoulder armor; black boots with embossed pattern; the cool Kryptonian gun he uses in the film; and a diamond-shaped stand with the character's nameplate and Man of Steel logo.
Due to Jor-El being produced in seemingly limited quantities, being based on Russell Crowe, and coming from a hugely successful film, the odds of this guy selling out everywhere before his first quarter 2014 ship date are definitely above average.
Click here to pre-order the Hot Toys 1:6 scale Jor-El figure from Man of Steel at Sideshow Toys and earn $11 worth of rewards points for doing so.
Feel free to click any of the images below to view a larger gallery at Sideshow.