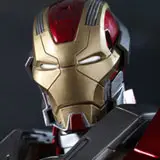 With Comic-Con on the verge of kicking off, Sideshow Collectibles has begun taking pre-orders for the first of several Hot Toys Iron Man 3 1:6 scale figures set to debut at the show. The honor of being first goes to Mark 17 or XVII, otherwise known as the Heartbreaker armor.
The Heartbreaker armor is part of the 'House Party Protocol' that Tony Stark (Robery Downey Jr.) initiates to battle Aldrich Killian and his Extremis soldiers in Iron Man 3. Of the roughly 35 or so armors that are part of the protocol, Heartbreaker was one of the few that actually was worn by Stark during the climatic final battle.
The Heartbreaker – Iron Man Mark 17 armor was designed to withstand artillery and it shows in the bulky design. The Hot Toys 1:6 scale version is a spot-on representation of how it looked in the film and features 36 points of articulation; LED-lighted eyes, chest plate and repulsor hands (with movable fingers); one pair of forceful fists; one pair of repulsor palms; improved waist articulation; and one circular stand. This figure is not a part of the new Die Cast armor line from Hot Toys.
Pricing for the Iron Man Mark 17 Heartbreaker armor is $249.99 at Sideshow with $12.50 earned in rewards points. The figure is scheduled to ship in February 2014.
Click here to pre-order the Iron Man Mark 17 Heartbreaker armor at Sideshow, while supplies last.