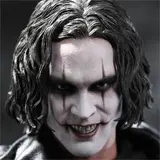 Eric Draven as The Crow (Brandon Lee likeness) is the Hot Toys 1:6 scale figure announcement that took everyone by surprise this summer. No one expected to see it materialize, especially in a market being driven almost exclusively by superheroes and – more specifically – Iron Man.
Yet The Crow is coming and Sideshow Collectibles has an exclusive version available ready to be purchased. The exclusive is a Weather Vane accessory as seen in the film, a vital part of The Crow character that would be sorely missed with the standard edition.
In addition to the Weather Vane, Eric Draven – The Crow also includes three pairs of interchangeable gloved palms a damaged black t-shirt, a black long coat, leather-like trousers, black boots, a crow with stand, a guitar and necklace, and a figure stand with Eric Draven nameplate and movie logo.
The Sideshow Exclusive version of The Crow is priced at $219.99 with $10 flat rate shipping in the U.S. and $25 to Canada, Great Britain, Ireland, France, Germany and Italy. Pre-ordering him earns you $11 in Rewards points, with delivery expected in April 2014. You won't be charged until just before he ships.
Click here to pre-order Eric Draven – The Crow Sideshow Exclusive edition, while supplies last. See additional images by clicking any of the ones below.