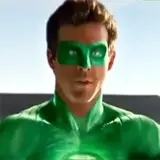 A higher quality version of The Green Lantern trailer footage recorded off the HD version of Entertainment Tonight has made its way online and you can enjoy it below (click the YouTube logo for an even bigger version).
Thanks to the increased resolution you can better make out Kilowag taking a sniff of Ryan Reynolds as Hal Jordan, Sinestro peacefully descending down in front of a giant Green Lantern emblem, and what looks like Green Lantern training on the planet Oa.
There's a lot of negative feedback floating around the web that the visual effects in this footage are too cartoony and obvious next to the live action stuff. Keep in mind that The Green Lantern is still in the early stages of post-production and there's a lot of work to be done between now and its June 2011 release. None of these shots may be 100% complete.
Entertainment Tonight will air their complete The Green Lantern piece next Tuesday while the full trailer will appear in front of Harry Potter on Friday.