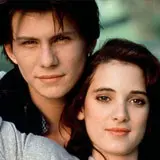 Winona Ryder has been known to sound off about her desire for a Heathers sequel and not too long ago "swore to god" that the gears were beginning to turn.
Not so says Heathers director Michael Lehmann in an interview with Movieline. As far as he is concerned, anything coming out of Winona's mouth regarding a sequel and re-teaming with Christian Slater is nothing more than wishful thinking.
"Winona's been talking about this for years — she brings it up every once in a while and Dan Waters and I will joke about it, but as far as I know there's no script and no plans to do the sequel," says Lehmann. "A couple weeks ago everyone started talking about it and I guess Winona said the movie was gonna get made, and I thought, 'I don't know, maybe they did this without me?' But I got in touch with Dan Waters and he said he didn't know anything about it. So I don't think there's any truth to it."
Add fabricated remarks to the growing list of untrustworthy traits Winona is accumulating.