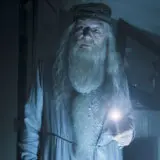 Early box office estimates for Harry Potter and the Half-Blood Prince midnight showings gave the sixth Potter installment a record breaking $20 million. While that number is huge and has Warner Bros. Pictures dancing in their offices, the actual number is even bigger.
Revised box office receipts for Potter's midnight opening screenings revise the total to $22.2 million, easily enough to secure the highest midnight opening ever. It achieved the feat from 3,003 showings, a number that will increase as the weekend approaches to 4,350 screens by Friday.
Former record holder The Dark Knight's $18 million and runner-up's Star Wars: Revenge of the Sith $17 million midnight box office returns could not match the magical powers of Harry Potter.
The next record likely to fall and go to HP6 is the largest gross for the first full day in theaters. That record is currently held by, you guessed it, The Dark Knight with $67.2 million. The record for the largest Wednesday single-day opening was set last month when Transformers: Revenge of the Fallen netted $62 million.