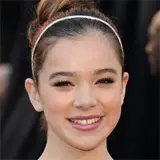 Hailee Steinfeld was questioned about her possible future involvement in The Hunger Games movie adaptation by MTV on the Academy Awards red carpet last night.
Rather than play coy, Steinfeld offered up the first definitive confirmation of whether she has a chance to snag the coveted role of Katniss. According to the young actress who was nominated for Best Supporting Actress for her role in True Grit, she has already met with The Hunger Games director Gary Ross and is taking the possibility as starring as heroine Karniss "day to day."
Steinfeld also noted that she is currently looking at a lot of potential roles, not just The Hunger Games. With the first in what should be multiple films based on the young adult novel due on March 23, 2012, Katniss and other roles are expected to be filled in the coming weeks as production gets ready to commence.