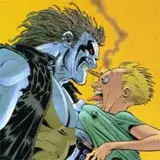 After helping reinvent Sherlock Holmes with Robert Downey Jr., director Guy Ritchie will next take a stab at his first true superhero film.
Per The Hollywood Reporter and Variety, Ritchie has signed on to direct Lobo based on the DC Comics' anti-hero intergalactic bounty hunter character. The big blue cigar chomper loosely resembles a cross between Hellboy and Gene Simmons but was originally created as a parody of overly aggressive superheroes like Wolverine and The Punisher. Based on what I've read about him on DC Comics' Wikia page, his on-screen exploits should be full of blood, guts, four-letter words, and am ample dose of uncovered T&A.
Ritchie takes over for Doug Liman who had been previously attached to the project producer Joel Silver has been developing for close to a decade. Even with Ritchie on board and a script from Don Payne in place, Warner Brothers has yet to offer a potential start date for Lobo's production.