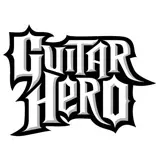 Today Activision pulled the plug on its Guitar Hero franchise as announced during the company's fourth quarter earnings report. Development on the Guitar Hero game scheduled for 2011 was immediately halted and the business unit responsible for the franchise disbanded.
The writing was on the wall for Guitar Hero last year when its chief rival, MTV and EA's Rock Band, evolved to include a keyboard peripheral and controls. Activision and Guitar Hero stayed the course with drums, guitar, vocals and bass which made it less appealing on store shelves compared to Rock Band in the eyes of consumers.
The Guitar Hero franchise brought hardcore gamers and casual players alike together on a living room stage. I speak for millions in saying that countless hours were spent shooting for 100% perfect scores. RIP Guitar Hero.
An uncertain future remains for the Guitar Hero spin-off, DJ Hero. The second iteration of that game was released last fall and no formal announcement regarding DJ Hero 3 has been made. Additional news on its fate should be made by GDC later this month or E3 in June by the latest.
Activision also canceled development on the sequel game True Crime: Hong Kong. That game was in development at United Front Games and was expected to be in stores this summer or fall for Xbox 360, PS3 and the PC after being delayed last year. Depending on how far along in development it was there's still a chance another publisher could step up and release it.
In total roughly 500 or 7% of Activision employees will be laid off as a result of cutting the company's game slate including Guitar Hero. Focus and assets will be immediately shifted to the Call of Duty franchise whose latest entry, Black Ops, earned over $650 million in its first 5 days of release. World of Warcraft: Cataclysm has also performed strongly having been labeled the fastest-selling PC game of all time. The success of these franchises is expected to lead to hiring later in the year that will offset the layoffs.
The next entry in the Call of Duty series is expected in stores this November. Activision has already gone on record stating it will be the most ambitious title to bear the CoD name yet.