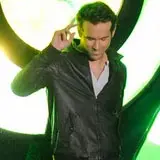 Last night at Spike TV's SCREAM 2010 Awards, Ryan Reynolds took to the stage to accept the trophy for "Most Anticipated Movie" which The Green Lantern won. Ironically – or not – his co-star Blake Lively was the presenter.
Behind Ryan on the stage was a large set piece for The Green Lantern Power Battery, a portable device that the superhero uses to recharge his power ring. The device will be featured in next year's The Green Lantern movie and now thanks to The Daily Blam! we have our first look at the actual set piece below.
The Green Lantern movie creative team have designed the Power Battery to look appropriate alien to our world. Helping that idea along is the fact that the device is sitting on a kitchen table in the image and you can clearly make out a microwave oven behind it.
Check out images of the Power Battery prop and SCREAM 2010 Awards over-sized version below.