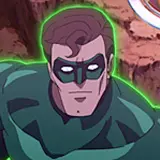 Warner Home Video has announced Green Lantern: Emerald Knights, a new animated direct-to-video feature-length film, is coming to Blu-ray Disc and DVD on June 7.
Green Lantern: Emerald Knights stars the voice of Castle's Nathan Fillion as Hal Jordan aka Green Lantern and Mad Men's Elisabeth Moss as Arisia, a new recruit forced into a mission on her third day as a Lantern Corps member. Other cast members include Henry Rollins as Kilowog, Jason Isaacs as Sinestro, "Rowdy" Roddy Piper as Bolphunga, Arnold Vosloo as Abin Sur, Kelly Hu as Laira and Wade Williams as Deegan. Talk show host Michael Jackson will voice the Guardian Ganthet.
Fillion was originally in the running for Warner Bros. live-action Green Lantern film and was considered a serious contender. That role eventually went to Ryan Reynolds with the film coming to theaters 10 days after Emerald Knights on June 17. With a little luck hopefully Fillion will eventually score a live-action superhero gig (Ant-Man please!)
Check out a first look image of Green Lantern, Arisia and a few of their Corps members in the background. The Blu-ray cover art and Amazon pre-order link will be passed along when available.