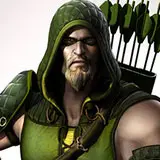 Green Arrow is getting a lot of love these days. On Wednesday night, the billionaire known as Oliver Queen by day and Green Arrow by night will be introduced to a much broader audience in The CW's new series Arrow. As revealed earlier today, Green Arrow will also be available as a playable fighter in the NetherRealm Studios 2013 fighter video game Injustice: Gods Among Us
Hawkeye proved in The Avengers that an archer character could be compelling and stand on his own in a world flush with superheroes and superpowers. Like Hawkeye in Marvel's universe, Green Arrow in DC's isn't exactly a top-tier character. The debut of Arrow with Stephen Amell in the starring role will greatly broaden his exposure, all the more reason why Green Arrow's inclusion in Injustice: Gods Among Us alongside Superman, Wonder Woman, Batman and other big names makes all the sense in the world.
The following 90-second trailer will give you an idea of how Green Arrow will stand on his own in Injustice: Gods Among Us. Because the game is a close-quarters melee combat style ala Mortal Kombat, Green Arrow will use phsyical blows to knock his enemies away, then fire arrows to execute ranged attacks once there is a little distance between him and his foes.
Injustice: Gods Among Us comes to Xbox 360, Playstation 3 and Wii U in April 2013.