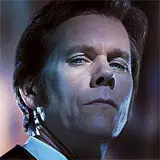 Playing the once difficult "Six Degrees of Kevin Bacon" is now infinitely easier thanks to the genius engineering minds working overtime at Google.
Anyone can now head over to Google search and simply type in the words "Bacon Number" in front of any actor's name. Google will then return the Bacon Number on top of the search results for the actor, including the film connections their algorithm came up with to determine the number.
For example, I searched for "Bacon Number Carrot Top" thinking I'd get a pretty high number. Wrong. It turns out Carrot Top's Bacon Number is 2 and this is how the search engine came to that conclusion:

Trying for something higher than a 2, I attempted Errol Flynn and got a 3.
Maybe a new high-tech version of the "Six Degrees of Kevin Bacon" drinking game will be born out of Google's work. I can envision a bunch of people sitting around a table with their cell phones or tablets at the ready, picking random celebrities and trying to guess the Bacon Number. Anyone who guessed wrong would have to take a drink.
I wouldn't be surprised if a group of tech-savvy friends have tried this already.
If anything, IMDB should get some extra web traffic since Google's "Six Degrees of Kevin Bacon" feature hotlinks the actor names and movies to Google search results, and IMDB is always hanging out around the top of those results.