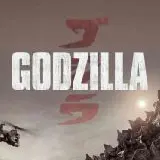 For the second year in a row, Warner Bros. and Legendary Pictures have screened teaser footage from director Gareth Edwards' Godzilla for Comic-Con Hall H attendees. And for the second year in a row, that footage is being kept out of the public eye.
With Godzilla stomping his way into theaters next summer, Legendary and Warner Bros. went a step further on their promotion of the monster flick and created the Godzilla Experience near the San Diego Convention Center. This general admission tour served two purposes; to pay homage to the Godzilla films of the past, and to tease the next iteration of the classic movie monster.
Before entering the final part of the experience, people were told that no photography of any kind was permitted. Comic-Con crowds are clever and at least two of them manage to shoot video of the Godzilla Experience climax.
The end begins with blaring alarms and the staff ushering you to a lift to escape an imminent threat. On the other side of the lift is a room with large windows, and just behind the windows are massive video screens that show Godzilla himself peering in and then walking off.
Staff on hand at the Godzilla Experience were claiming that the design of the creature is not taken from the upcoming film. I call BS there as there is no way Warner Bros. and Legendary would foot the bill to create a massive CGI monster solely for the purpose of the exhibit. He may not look precisely as he will in the finished film, but I bet he's close.
Watch the "not the movie Godzilla" in the Godzilla Experience video below. Do so fast as the first one of these videos that popped up on YouTube didn't last too long before it was yanked.