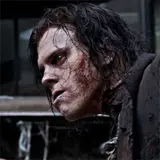 AMC has promoted Glen Mazzara to showrunner of The Walking Dead less than 24 hours after Frank Darabont surprisingly exited his post.
Mazzara was brought on as an executive producer under Darabont between seasons 1 and 2 to operate as the number two in charge under Darabont. He was widely considered to be the front-runner for the newly opened position after Darabont walked in the middle of production on season 2 and just after appearing with the producers and cast at Comic-Con last weekend.
Fans of The Walking Dead need not worry about Mazzara's credentials or dedication to the show. In addition to remaining an executive producer alongside Robert Kirkman and Gale Anne Hurd, his past credits include showrunner for season 2 of Starz' Hawthorne and season 1 of Crash. He also worked on FX's highly regarded The Shield.
Darabont's future with The Walking Dead remains unknown. He might decide to leave the show behind entirely, or stay on board in a less rigorous and demanding producing capacity.
Production on season 2 of The Walking Dead is in full swing with the premiere set for October 16. Check out the extended Comic-Con trailer for The Walking Dead season 2 and some new images.
Source: Deadline