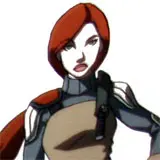 Remember that GI Joe cartoon clip that Hasbro showed off at Comic-Con last year? The one that started with the old Joe cartoon then quickly morphed into a modern interpretation with Snake Eyes gutting Cobra soldiers who fired real bullets and not lasers?
That show, dubbed Resolute, was supposed to debut online earlier this year in the form of approximately 5-minute shorts. A supporting action figure line was launched that hit stores last December. Yet here we are today and still no Resolute.
Hasbro has kept deliberately mum on the cartoon that Joe die-hards are practically more excited for than the new Stephen Sommers Rise of Cobra film. Rather than reinventing the wheel, Resolute carries forward characters and designs from the old Joe cartoons with minimal aesthetic tweaks but a more edgier feel to appeal to today's adults who grew up wishing they owned a U.S.S. Flagg playset. Rise of Cobra, on the other hand, is an overhaul of the GI Joe brand designed for "mass appeal."
Despite Hasbro's tight lips there appears to be a telltale sign that Resolute is indeed coming soon but not how anyone originally intended. If an on-air programming schedule at Adult Swim is correct, all of Resolute's episodes will air as a one-and-a-half hour long movie on Saturday April 25 at midnight. The schedule is tricky to read so it could be either Friday or Saturday night so check your TV schedules when the date draws closer and adjust accordingly.
Resolute airing during Adult Swim brings hope the cartoon will a) have a chance to be picked up as an ongoing series and b) make its way to Blu-ray Disc later this year now that Adult Swim has gone high-def home video with The Venture Bros. Season Three. One step at a time. Right now we want to finally see if Resolute lives up to the adult-targeted violence the promo trailer promised.
So April 25 at midnight. Mark your calendar. And if you need to see the proof then go check out the schedule at Adult Swim for yourself.