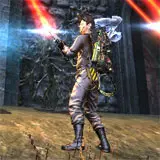 Atari has passed along the final box art for Ghostbusters: The Video Game (their spelling, not mine) on Xbox 360, PS3 and Nintendo Wii (and PC, though not pictured below).
Just for kicks I've placed the Blu-ray Disc cover art below the the game art so you can compare, contrast, grumble or rejoice. Everything pictured below will be in stores on June 16.
From Atari: Working closely with Sony Pictures Consumer Products and acclaimed development studios Terminal Reality and RedFly, Atari will bring this completely all-new chapter of the blockbuster Ghostbusters saga to advanced gaming platforms coinciding with the 25th anniversary celebration of the film's original theatrical release. Ghostbusters: The Video Game, based on the smash hit motion picture franchise, is penned by original Ghostbusters writers and stars Harold Ramis and Dan Aykroyd and reunites many of the original cast members to recapture the unique blend of humor and fright that established Ghostbusters as a pop culture sensation.
Click here to pre-order any version of Ghostbusters: The Video Game at Amazon.com.