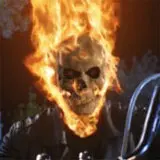 Ghost Rider 2 rumors have flamed up sporadically over the past several months and now another has popped up suggesting Columbia Pictures is pushing forward on development with Nicholas Cage returning to star.
Variety is reporting Columbia is in talks with David Goyer to create a story based on his unused Ghost Rider screenplay and supervise writers in penning a new script. Goyer is not on board yet, but Columbia is moving forward based on his original concepts.
Ghost Rider is a Marvel property which means it is now a Disney property. Studios with active Marvel deals including Fox and Paramount are forging ahead with Marvel projects before their deals run out and Disney takes over. A Ghost Rider sequel at Columbia Pictures, and Spider-Man 4 which is currently in development with a 2011 release, follows that trend.