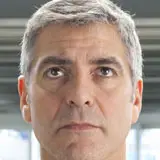 Paramount has released the official one-sheet movie poster for this holiday season's dramatic comedy Up in the Air.
In the flick directed by Jason Reitman, George Clooney stars as Ryan Bingham, a feared corporate downsizing expert shuttled around the country to perform his duty. On the verge of racking up a mind-boggling 10 million frequent flier miles, Ryan finds his job in jeopardy and meets a frequent flier woman straight from his dreams.
Co-starring along with Clooney are Vera Farmiga, Anna Kendrick, Jason Bateman and Danny McBride.
Up in the Air is expected to land in theaters in early December. The first trailer is rumored to touch down in early September.
Click the poster for a much larger view and scroll past the poster for a shot of Clooney looking perplexed.