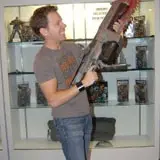 Sales for the just-listed Amazon.com exclusive Gears of War 2 Lancer rifle/chainsaw combo have skyrockteted since appearing earlier this weekend, sending the rifle replica to the top videogame sales spot where it hasn't budged.
Part of the life-size replica gun's popularity, besides it looking utterly bad ass, is a special pre-order bundle promotion that throws in Gears of War 2 the game for free or the limited edition game for an extra $10. So for $139.99 (or $149.99 for the limited edition), you can pick up the gun and the game up until release on November 7. After that time the gun will be sold separately only.
The Lancer includes a trigger-activated motorized "Chainsaw" sound and vibration feature, a side handle that folds in & out and slides back & forth, a removable clip, and compartment for 3 "C" batteries. It was created from the actual 3D data created by Epic Games for the game.
Amazon.com has offered no indication of how many Lancer's manufacturer Neca has put together. Based on the surge of pre-orders that aren't letting up thanks to the game tossed in for free, it may very well sell out long before release in October.
Click here to secure your Gears of War 2 Lancer and free copy of the game from Amazon.com, while supplies last.