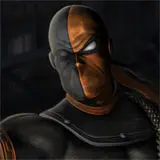 Midway has released the final lineup of fighters to appear in Mortal Kombat vs DC Universe.
Rounding out the roster are villains Shao Kahn, Darkseid, Baraka and Lex Luthor. They bring the total roster to 22 fighters, 11 on each side.
Mortal Kombat vs DC Universe is currently scheduled for release in November on Playstation 3 and Xbox 360.
About the game: For the first time ever Scorpion, Sub-Zero and the Mortal Kombat warriors battle with Batman, Superman and other popular DC Universe Super Heroes. Choose your side and challenge your opponents with a new fighting system including Freefall Kombat and Klose Kombat along with dynamic multi-tiered environments. Plus, pick your favorite character from MK or DCU and pursue a fighting adventure in the new single player mode with an intertwined storyline and two unique perspectives.
Mortal Kombat
Scorpion
Sub-Zero
Sonya
Jax
Shang Tsung
Liu Kang
Raiden
Kitana
Kano
Baraka
Shao Kahn
DC Universe
Batman
Superman
Catwoman
Green Lantern
The Joker
Shazam
The Flash
Wonder Woman
Deathstroke
Lex Luthor
Darkseid