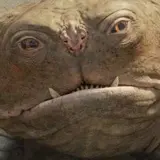 Disney has released the first full trailer for John Carter and its a visual effects showpiece not unlike the first trailer for Avatar, only replacing the lush forests of Pandora with the barren deserts of Mars.
It's not hard to draw comparisons between Avatar and John Carter based on this new trailer. The tall, lanky Martians, caught up in war, are similar in stature to the Na'vi of Pandora. A human fighting amongst them and huge effects sequences are also shared traits.
You could also draw comparisons of Carter taking on a giant blind white ape while in chains to the arena sequence in Star Wars: Attack of the Clones in which Obi-Wan, Anakin and Padme were faced with battling large exotic alien beasts while chained up. I was a little surprised to see the end of the ape sequence appear in the trailer.
John Carter is based on the science fiction book series by Edgar Rice Burroughs. It stars Taylor Kitsch, Lynn Collins, Mark Strong, Bryan Cranston, Willem Dafoe and Thomas Haden Church in the story of a Civil War veteran who ends up on the surface of Mars and caught up in a massive war between races.
Directing John Carter is Pixar vet Andrew Stanton in what is his first live-action feature film. The inhabitants of Mars and much of the landscape is computer generated, so Stanton is still working in familiar territory. With a resume that includes WALL·E and Finding Nemo, there are great expectations that Stanton will deliver with John Carter when it hits theaters on March 9.