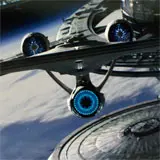 Star Trek showed no signs of slowing on Friday as it piled onto the already impressive $7 Thursday evening box office take.
Early unconfirmed estimates indicate Star Trek brought in $29.3 million in ticket sales. Add in Thursday's number and Trek is warping full speed ahead with a cum of $36.3 million.
Saturday should prove equally lucrative for Star Trek but Sunday could reduce the film's warp factor as families head out to celebrate Mother's Day.
Even with a small dip it looks as if Star Trek is well on its way to an $80 million opening weekend which would easily be the best the franchise has ever experienced. The November Blu-ray Disc and DVD release should follow suit and be an equally huge seller.
Read TheHDRoom's Star Trek movie review.