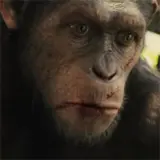 Fox's Rise of the Planet of the Apes has been inching up on moviegoers' radars with each successive new trailer and television spot. I've yet to meet anyone who really wanted the classic franchise to reboot, but the results from director Rupert Wyatt are hard to ignore.
Today Fox released an extended four-minute clip from Rise of the Planet of the Apes based around a sequence that was one of the most compelling in the last trailer released. In it we learn that John Lithgow's character is suffering from Alzheimer's to the extent that he gets in a neighbors car and accidentally rams it into two other cars. The car's owner comes out and yells at Lithgow, to which Caesar bursts from the home and takes action.
There's a lot of wonderful filmmaking going on in this clip. First you have Lithgow, an amazing actor who recently won an Emmy for his portrayal of a serial killer on Dexter. You can feel the fear in his eyes as he struggles to control the car.
Then you have the combination of Andy Serkis as the chimp Caesar, and incredible CGI work on top of his motion-capture performance. Serkis actually introduces the clip and does a marvelous job at it. The guy should get a star on the Walk of Fame for his motion-capture excellence. If Serkis' Caesar behaves and looks as real as he does in this clip, then Rise of the Planet of the Apes is more than worth giving a shot.
Rise of the Planet of the Apes stars James Franco, Freida Pinto, John Lithgow, Brian Cox, Tom Felton, and Andy Serkis. Look for the ape revolution to begin in theaters on August 5.