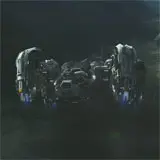 Fox has released the first clip from Ridley Scott's Prometheus that strings together several of the quick glimpses offered in the previously released trailers.
Idris Elba commands the Weyland Prometheus ship through the atmosphere of the planet where ancient clues about the origins of mankind have steered the crew. There's a quick glimpse of several cast members including Elba, Noomi Rapace, Logan Marshall-Green and others. However, stars Charlize Theron and Michael Fassbender aren't seen in the footage.
One interesting line comes from Logan Marshall-Green's character as the Prometheus navigates through a valley. He spots what looks like a road in the dirt and says, "god does not build in straight lines," most likely referring to discussions held earlier in the film about mankind's creators.
Sit back and enjoy a lot of visual effects in the first clip from Prometheus, opening everywhere on June 8.