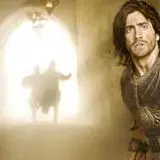 Entertaiment Weekly continues to dole out the exclusive images this week, this time with the first "official" shot of Jake Gyllenhaal as Prince Dastan in the upcoming Jerry Bruckheimer-produced Prince of Persia: Sands of Time movie.
Unlike most films adapted from videogames with modest budgets and aspirations, Prince of Persia has been designed to be a summer blockbuster ala Pirates of the Caribbean. In fact, similar negativity clung to Pirates when it was first announced (a movie based on a theme park ride would be lame) as it does Prince of Persia (a movie based on a game is doomed to imminent failure).
Never underestimate the box office power of one Mr. Jerry Bruckheimer. The man knows how to many a penny or gazillion.
Check out the image from EW.com below or see a bigger version of it in the latest print issue of Entertainment Weekly, available now. If you missed the earlier first look images from Iron Man 2 and other upcoming big films, click here.