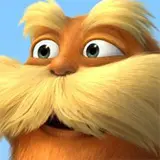 USA Today is sharing a Dr. Seuss treat this morning in the form of a first look at the Lorax character from the upcoming 3D animated movie.
The Lorax is being brought to the big screen by Illumination Entertainment, the same folks behind Horton Hears a Who and Despicable Me. Danny DeVito voices the character who "speaks for the trees" and will be tasked with fending off villains The Once-ler (Ed Harris), a tree chopper and O'Hare (Rob Riggle), an industrialist who sells cans of fresh air to newly polluted areas. Zac Efron will voice the well-known boy straight from The Lorax book while Betty White will lend her talents to a new character, the boy's grandmother.
Read a little bit more about The Lorax in USA Today's feature article.