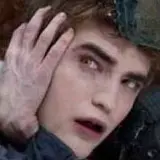 The publicity noose around The Twilight Saga: Eclipse has slowly begun to loosen as evidenced by a series of new in-film pictures that have popped up online.
Most of the pictures are from a scene of Edward (Robert Pattinson) and Bella (Kristen Stewart) making out in what appears to be the Cullen abode. Looks like Edward is no longer content with staying on first base and is finally trying to steal second.
The real news is the first image of Bryce Dallas Howard as evil vampire Victoria (not including spy set photos). If you recall, Howard filled the role abruptly vacated by Rachelle Lefevre at presumably Summit Entertainment's request.
Click any of the images below for higher resolution versions.
Source: Hollywood Dame