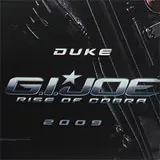 A poster over at Film1.nl stumbled onto the first official teaser poster for Paramount's GI Joe live-action film at the Cinema EXPO in Amsterdam. Luckily for all of us, he had a camera ready and snapped a pic to share with the world.
The teaser poster features Channing Tatum as Duke in what will likely be the first of many character-focused teaser posters ala Fox's X-Men.
More interestingly is the movie name which includes a "Rise of Cobra" subtitle which until now was a complete unknown. Unless there's some last minute change, the full name we can expect to see plastered everywhere next summer is GI Joe: Rise of Cobra.
More GI Joe movie news is likely to surface later this week as the official GI Joe convention kicks off. Stay tuned for updates.