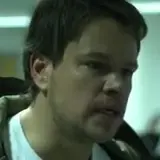 No one appears to be safe in the first trailer for Contagion, a new thriller from director Steven Soderbergh coming to theaters in a couple months. You can watch the trailer below as well as check out a new one-sheet poster for the film.
In Contagion, a deadly virus is on the loose that is transmitted by a single touch and kills in mere days. The film appears to track the medical effort to find a cure, and how the virus' spread is affecting the general population.
As far as trailers go this one talks a walk through spoiler territory. Contagion is brimming with stars and at least one of them is definitively offed in the trailer. You also get a good idea of how the film will play out and even where the cure might be found.
Trumping any spoiler concerns is Contagion looks like a genuinely enjoyable thrill ride from the man behind Ocean's 11 and Traffic. No one appears safe, and that could make the film all the more suspenseful as the virus attacks.
Contagion stars busy actress Marion Cotillard, Matt Damon, Laurence Fishburne, Jude Law, Gwyneth Paltrow and Kate Winslet. It will break out in theaters everywhere on September 9.