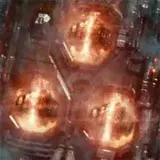 Making the rounds this morning is the first clip from Universal, Hasbro and director Peter Berg's Battleship via Yahoo.
The clip features those glowing, spinning alien balls that get launched out of a transforming structure from the sea, as seen prominently in the previously released trailers. Three of the balls fly through the air and then attack a Navy airfield, easily plowing through every helicopter parked on the tarmac. And yes, the Michael Bay Transformers similarities are obvious so there's no need to continually bring them up.
Battleship stars Taylor Kitsch, True Blood's Alexander Skarsgard, Brooklyn Decker, Rihanna and Liam Neeson. The big budget fight between a fleet of battleships and alien invaders drops into theaters on May 18.