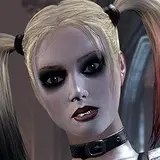 Rocksteady Games and Warner Bros. Interactive have moved their teases for Batman Arkham Asylum from static images to the video realm. After watching the first gameplay footage below via IGN, you'll want to congratulate them.
The mostly – but not all – gameplay trailer seems to partially follow the same level demoed to select gaming media and extensively described a few weeks ago. Batman is tasked with saving Catwoman who has been strung up by Two-Face and his goons. Batman of course rescues Catwoman which opens the possibility for them to work together in taking down former District Attorney Harvey Dent.
Several of the recently released Batman Arkham City screenshots are put to motion in the trailer as well. We get to see Harley Quinn strutting her stuff, the Joker's henchmen, and Batman beating up all kinds of thugs.
The trailer provides multiple good examples of how flight by cape will work in the game. Batman can torpedo toward the ground to pick up speed after leaping from a tall building, then level out to glide to his destination. It's a good thing Batman Arkham City is geographically 5 times larger than Arkham Asylum or Batman would be flying around in circles.
Batman Arkham Asylum will begin selling like hotcakes on Xbox 360 and PS3 on October 18.