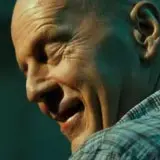 Bruce Willis and Jai Courtney are having a bad day as father and son in the first from A Good Day to Die Hard, the fifth film starring Willis as New York cop John McClane.
In the clip, John and his son Jack have been captured by bad guys and get told by the leader that he "hates Americans… especially cowboys." John and Jack, of course, laugh at this, and make a joke about the slickly tailored bad guy outfits before busting loose and taking cover behind a bar.
While Jack starts to tell his dad that he thinks he's about to die as machine gun bullets fly everywhere, John pulls a trick out of Hans Gruber's bag from the original Die Hard and simply "shoots the glass."
A Good Day to Die Hard opens in theaters everywhere on February 14.