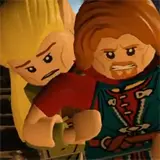 TT Games and Warner Bros. Interactive Entertainment have released the final Lego The Lord of the Rings developer diary that takes a behind-the-scenes look at how the game was made.
This final developer diary is titled 'Journeying Forward' and is chock full of new cinematic footage from the game's many cut-scenes. In fact, there's practically enough footage in here, most of it new that I can tell, to build a new trailer with. It's definitely worth taking a few moments to sit back and enjoy.
Lego The Lord of the Rings comes to Xbox 360, Playstation 3, Wii, 3DS, DS, PS Vita and the PC on October 30.
Click here to pre-order Lego The Lord of the Rings on the platform of your choice at Amazon.com and earn a $10 credit for doing so.