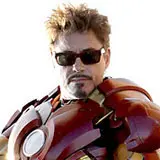 Looks like Jon Favreau has been holding back on his Tweets with the juicy Iron Man 2 info. Informing us that production is halfway through is neat and all, but he shared the real goods with Empire Magazine in an exclusive interview.
Jon first discussed the evolution of Tony Stark now that he has outed himself as Iron Man. All is not rosy for the superhero whom everyone knows his name.
"Tony's expected to be a role model and I don't think he's ready to be one. He's under a great deal of pressure and when you're under pressure, I think you find outlets for that. That's one of the tensions of the film: it's one thing to say you're Iron Man, and another thing to actually become Iron Man."
If Jon's hints aren't laced with deliberate misinformation, Don Cheadle aka Jim Rhodes should be packing some serious heat.
"Rhodesy is definitely stepping up in this film. Let me put it this way: Tony's not the only person with technology in the film."
Moving beyond cryptic hints, Mickey Rourke spewed out Whiplash details fresh off a short stint filming with Sly Stallone and gang on The Expendables.
"I'm having the time of my life! It's been really brutal, because my Iron Man suit weighs 23lb. It's sort of a half-suit, with half my skin showing, with lots of Russian tattoos, because [Whiplash is just] out of a Russian-zone prison."
Empire ends their piece hinting at more Iron Man 2 in their July issue. With Comic-Con also in July, expect that to be the month we get some substantial Iron Man 2 scoops, set pics and the first footage.