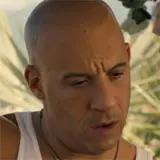 Universal's marketing strategy for Fast & Furious 6 has finally extended beyond Vin Diesel Facebook posts and hit the nitro button during the Super Bowl with a short and sweet commercial that put the other movie-related spots to shame. As it turns out that tease was only the tip of the iceberg, and now we have nearly three-and-a-half minutes worth of footage to kick back and consume.
The extended Fast & Furious 6 trailer lays out the film's story in layman's terms. Dom is using his $100 million score from the previous film to get laid and enjoy paradise, but he's not hiding too hard as Hobbs tracks him down with an offer to gain a full pardon by helping him take down a dangerous new criminal threat.
Dom isn't too interested in the deal at first, until he sees a ghost in a picture: Letty (Michelle Rodriguez). She's not only alive but up to no good, working with the crew that has led Hobbs on a twelve country manhunt thus far.
With a full pardon and reconnecting with Letty at stake, Dom assembles the best team there is: Brian O'Conner (Paul Walker), Sung Kang (Han), Tej Parker (Ludacris) and Roman Pearce (Tyrese Gibson), to help take down the group run by Owen Shaw (Luke Evans). This villain doesn't play by rules, as evidenced by his tricked-out barricade busting car and driving a tank down a freeway.
The extended trailer ends the same way the Super Bowl spot does, with Dom and his group taking on the bad guys as a jumbo jet explodes behind their cars. Not Dom's car, though, as it's actually inside the jet and bursts out Alien-style just in the nick of time.
Fast & Furious 6 speeds into theaters on May 24, 2013, Memorial Day weekend. I'll be shocked if it doesn't open with at least $100 million through its first three days given the return of Letty, bigger set pieces and Dom's whole crew along for the ride.