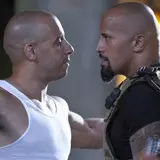 Fast Five, the fifth film in the Fast and Furious franchise, is already off to a fast start overseas. It topped Marvel's Thor in Australia and is poised to leave skid marks on the competition when it opens in North America this upcoming Friday, April 29.
Helping boost Fast Five's bottom line for Universal is today's news that the film will open on a whopping 245 IMAX screens, a record for the large-size format. Keep in mind that Fast Five wasn't filmed with IMAX cameras and will be digitally remastered to fit the IMAX size and aspect ratio.
Fast Five is directed by Justin Lin and stars series vets Vin Diesel, Paul Walker, Tyrese Gibson, Jordana Brewster, Ludacris and Sung Kang. Joining the fun and adding additional box office muscle is Dwayne "The Rock" Johnson as a new adversary for Diesel's Dominic Toretto character.
I'll be launching a Fast Five promotion tomorrow so be on the lookout for it.