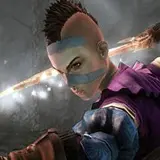 Lionhead Studios has announced the long-awaited release date for Fable 3 on the PC is May 17 after several delays pushed it back from what was originally planned to be a day-and-date launch with Xbox 360 last October.
Why a half year a delay? Fable 3 on the PC will include a couple features the Xbox 360 version does not. It will support 3D via NVIDIA technology for an added dimension of gameplay. It will also include a new 'Hardcore' mode that cranks up the difficulty level.
Fear not Xbox 360 owners as Lionhead is taking care of you as well. On March 1 i.e. this upcoming Tuesday, a new DLC pack for Fable 3 called 'Traitor's Keep' will be available to purchase for 560 Microsoft Points. This pack includes a trio of new levels: Ravenscar Keep, Clockwork Island and the Godwin Estate. Within it are new quests, additional content, a new mysterious prisoner character and 250 new Gamerscore points to go after.
If you want to take Fable 3 mobile then next month look for Fable Coin Golf for Windows Phone 7. This British pub-inspired game lets you transferred gold earned to your Fable 3 game as well as offers three exclusive Fable 3 weapons that can be unlocked and used in the 'Traitor's Keep' DLC.