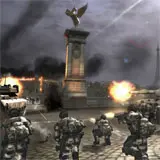 After giving Xbox 360 owners a playable demo for Tom Clancy's EndWar, Ubisoft was quick to promise PS3 would receive the same treatment. Then the days leading up to release began to shrink and we began to wonder if they'd ever come through.
Finally, today Ubisoft has announced the playable demo for Tom Clancy's EndWar on PS3 has arrived. Just in the nick of time, too, with the retail version landing in stores next week on November 4.
In EndWar, players take command of armed forces in World War III and use RTS gameplay in lieu of pulling the trigger.
Utilizing the advantages of next-gen consoles, EndWar allows players to issue commands not only with the controller, but with your voice. We've seen this in action and it works remarkably well, speeding up gameplay and leaving your hands free to look at other menu items.
The demo offers single and multiplayer gameplay in the "Prelude to War" and "Conquest" mode at the Kennedy Space Center, respectively.