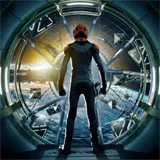 Summit Entertainment enlisted Ender's Game movie stars Harrison Ford and Asa Butterfield to introduce the first snippet of footage from the forthcoming Ender's Game trailer.
In the tease, Ford's Colonel Hyrum Graff character tell's Buttefield's Ender Wiggin that he "will be the finest commander we've ever trained." In addition to a couple Battle Room training and space station shots, the trailer tease offers a brief glimpse of Ben Kingsley (Iron Man 3) with his face tattooed in the role of Mazer Rackham.
Ender's Game is based on the 1985 Sci-fi book by Orson Scott Card, the first in a series of five books. Set in the future, the film takes place 70 years after a second attack by Formics (ant-like aliens) where a Battle School is training top recruits for an inevitable third invasion. Among them is Ender, an unusually gifted student whose mastery of the Battle Room makes him stand out amongst his cadet peers.
Co-starring with Ford, Kingsley and Butterfield in Ender's Game are Abigail Breslin, Hailee Steinfeld, and Viola Davis. Helming the film is Gavin Hood ( X-Men Origins: Wolverine), who also wrote the screenplay based on Scott Card's novel.
The full Ender's Game trailer is scheduled to debut online this upcoming Tuesday, May 7. Summit will release the film in cinemas on November 1.