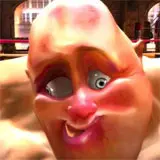 Electronic Arts today released a free demo for FaceBreaker on Xbox 360 which you can download right now off the Xbox Live Marketplace. A Playstation 3 demo will arrive on August 14.
FaceBreaker returns boxing to the Tyson's Punch-Out days where highly stylized fighters, in this case looking uncannily like they stepped out of Pixar's The Incredibles, face off utilizing a variety of over-the-top special moves and counter-attacks.
Tagging FaceBreaker as a true next-gen experience is an easy choice thanks to Photo Game Face. As the name implies, fighters on either Xbox 360 or Playstation 3 can snap a picture of themselvse using the Playstation Eye or Xbox Vision Cam and upload it onto a fighter in the game. Then you can pummel that face to a pulp and even win a plague of someone else's head if you beat them in an online challenge. Imagine the possibilities.
We had a chance to play FaceBreaker at E3 earlier this month and it is deceptively addicting. There will be a lot of smack talking online as players try to win trophy heads of their opponents.
FaceBreaker is scheduled for release September 3 on Xbox 360 and Playstation 3. A Wii version, FaceBreaker K.O. Party, will come later in the year.
Click here to secure a copy of FaceBreaker for Xbox 360 or Playstation 3 via pre-order at Amazon.com.