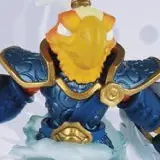 For the third consecutive E3, Activition's Skylanders franchise will have a large presence at the show with new goodies to unveil. What began as a re-imagining of the Spyro The Dragon brand has evolved into the father of the "toys to life" category, and a billion-dollar franchise to boot. A lot is riding on Skylanders 3, officially known as Skylanders Swap Force, especially with a new developer at the helm and competition from Disney Infinity arriving in stores before Swap Force does.
I can't speak specifics to what Activision and Vicarious Visions are bringing to E3 as that information is still under embargo. What I can tell you is that past E3's offer a template of what you can expect to learn this year. In addition to the release date and pricing that has announced yesterday, there will be multiple new character reveals including Swap Force, LightCore, regular and Series 3 figures, as well as multiple new game levels on display.
Here's a quick rundown of what we already know to serve as a refresher, followed by a quick new tease of what's to come.
Skylanders Swap Force is being developed by Vicarious Visions, the studio behind Skylanders: Spyro's Adventure for 3DS, for Xbox 360, Xbox One, PlayStation 3, PlayStation 4, and Nintendo Wii U. N-Space is developing the 3DS version, the same studio behind the 3DS version of Giants, while Beenox is tackling the Wii version. Except for the Xbox One and PlayStation 4 versions, all others will release in North America on October 13, 2013.
The story is confirmed to take place after the events of Giants but doesn't seem to tie-in to the cliffhanger ending of that game. Or if it does then Activision is doing a good job of hiding that thus far.
There will be a total of 16 Swap Force characters priced at $14.99 each, the same price point as last year's Giants characters. In addition you can expect 16 new core Skylander characters, 16 Series 3 characters or reposes of previously released characters with a new "Wow Pow" power, and 8 new LightCore characters. All characters, including legacy characters from the first two games, will now be able to level up to 20. All existing Skylanders characters, including Giants, will be compatible with Swap Force. However, new Swap Force characters will obviously not be backward compatible with Spyro's Adventure or Giants.
We already know of two all-new Swap Force characters that will be debuting at E3 2013 as seen on the 3DS package art. One is a rattlesnake sporting an outback hat, and the other looks like a falcon bird with glowing eyes. I can tell you that the first word in the rattlesnake's name is, somewhat obviously, "Rattle," and the last word is not "Snake."
I can also tell you that these two aren't the only new Swap Force characters that are about to be revealed. As Yoda once famously spoke to ghost Obi-Wan Kenobi, "there is another," and that other is not pictured on the pre-order promotional art that popped up in retail outlets yesterday.
Last but not least, an E3 with Skylanders wouldn't be an E3 with Skylanders without a new E3 exclusive repainted figure. I can't tell you who it is, but at least confirming its existence is throwing a decent sized bone, right?
The Skylanders Swap Force goodies including new images, screenshots and video will begin early on Tuesday, June 11, and continue over the course of the next week as we go hands-on with the game and dig for more information. Be sure to stop back or follow us on Facebook or Twitter to keep up to date.